Hello pilots!
We are thrilled to announce, as part of Wormholes, the fourth major free update for EVE: Valkyrie arriving Feb 15- a significant and substantial new feature for EVE: Valkyrie… Leagues.
It's our goal to constantly improve EVE: Valkyrie's competitive experience, so join us for a few moments as we take you through this exciting new development.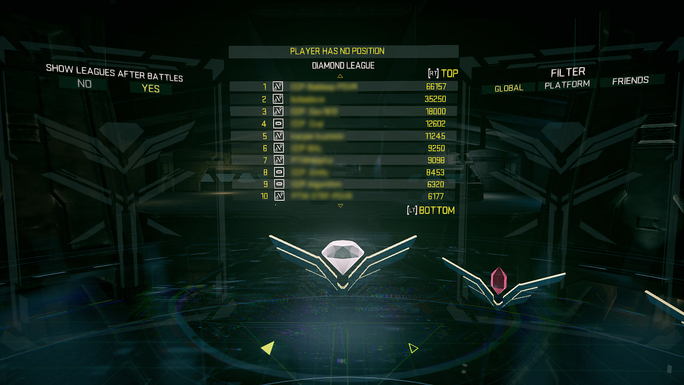 The Why and How of the Valkyrie League
Simply put, the Valkyrie League is another step in our journey to support more competitive gaming. The goal we set out on paper was to create an accurate ranking of a player's performance based on a period of time. It's an exciting process, but a complex one.
To ensure that every aspect of the feature is working as designed, we really need to feed it with genuine player data in a live environment. There's a ton of data being collected to feed the various calculations we make while evaluating player performance, and this all needs time to bed in.
Our community has always responded well to major new features and we have many success stories where rules and balancing have been more accurately tuned during this public testing phase. We're eager to see those league tables fill up for the first time with real pilots.
What are Leagues, in Practical Terms?
The natural, and planned, evolution for Leagues will be the introduction of Seasons.
Seasons work in three key ways:
They give players more opportunities to be promoted within the Leagues
Seasons provide definitive end points where rewards can be given
Most importantly, Seasons can offer a clean slate so that cumulative data is not a governing factor in measuring our best pilots
In many ways, the alpha release of the Valkyrie League can be regarded as a Season in itself. Once the alpha is underway, we can see how the systems are holding up and then more accurately plan our first true Valkyrie Season.
The Four Leagues Explained
Our prestigious alpha Leagues, of which there are four, are based on precious gemstones.
Diamond League:
Any pilots skilled enough to place within the Diamond League can be considered the best of the best. This league will be populated with the top 10 pilots from around the world. These really are our aces.
Ruby League:
With a membership limit of around 1000 pilots, gaining access to such an exclusive group could also be regarded as a Herculean achievement.
Sapphire League:
Our third League has a membership cap of approximately 10,000 pilots. You'll still have to put in the hours to gain and maintain a placement. Anyone placing in Sapphire can consider it a significant achievement.
Emerald League:
The fourth and final league is where the majority of our pilots will be ranked. This final league can be considered a default league as simply playing a PVP battle will give you placement within it.
Community Involvement
As always, our community of pilots will play a significant role in shaping the new Valkyrie League feature.
Initially, we will be looking at some specific case studies from pilots that represent a range of skills. We're keen to see where our 'best' pilots place compared to average pilot data. We will not be publishing the exact calculation that is made to achieve league score, so we're hoping that the anecdotal feedback we receive will give us a good temperature check on how players perceive the system. We have to ask ourselves a few crucial questions regarding this process:
Do players feel that earning score through playing well and winning are making a difference to their league position?
Does progression feel fast enough?
Do they notice a difference in the score they receive when playing a match that is full of other pilots and no AI?
Do they notice a difference when engaged in a match for 15 minutes or five minutes?
All these factors have been considered when we calculate League score and during the alpha period we will be looking to tune the values to find the sweet spot.
It's truly thrilling to be bringing such a significant new feature to the Valkyrie experience and we can't wait to see how it develops over time.
We're also creating a questionnaire to help us compile and consolidate player feedback. We'll share details of when and where players can access this questionnaire once we have the League Alpha tables populated and working as designed.
Do check out the website and forums to find out more about the specifics of the Valkyrie League and contribute to the ongoing conversation.
Happy flying!
CCP Roo