Yes, in New Eden, space pirates and outlaws are a self-serving breed out for fame and fortune. But behind the curtain, out here in the real world, Valkyrie pilots couldn't be a more lovely bunch of people.
In case you missed it, the annual gaming charity event GameBlast17, took place between 24-26th February and this year saw the EVE: Valkyrie community joining in with the fun.
The EVE: Valkyrie event was organized by community legend General Stargazer and although the proceedings were planned to run from 7-10pm UTC, everyone had such a lot of fun that it ran well past midnight.
The whole thing was streamed live with viewers able to donate, make requests and reach various stretch goals and, uniquely, the stream featured players using all three VR platforms simultaneously.
So what strange things did those present at the event get up to? Quite a lot, as it happens, as you can tell from the video of the event. It's over three hours long so let's break things down a bit.
Gaming was the focus, naturally, but things also flew off in tangents including an awful lot of singing… or should that be a lot of awful singing? Judge for yourself. At one point during the evening, our very own CCP Redcape ended up donating, but on the condition that the participant sing Kenny Loggin's  "Danger Zone" with 'meows' instead of lyrics. You can listen to it in all its glory here, if you dare.
Another highlight saw players battling with a shoe on their heads and streamer salsketchup wearing slippers on his ears. See the evidence in the pic below.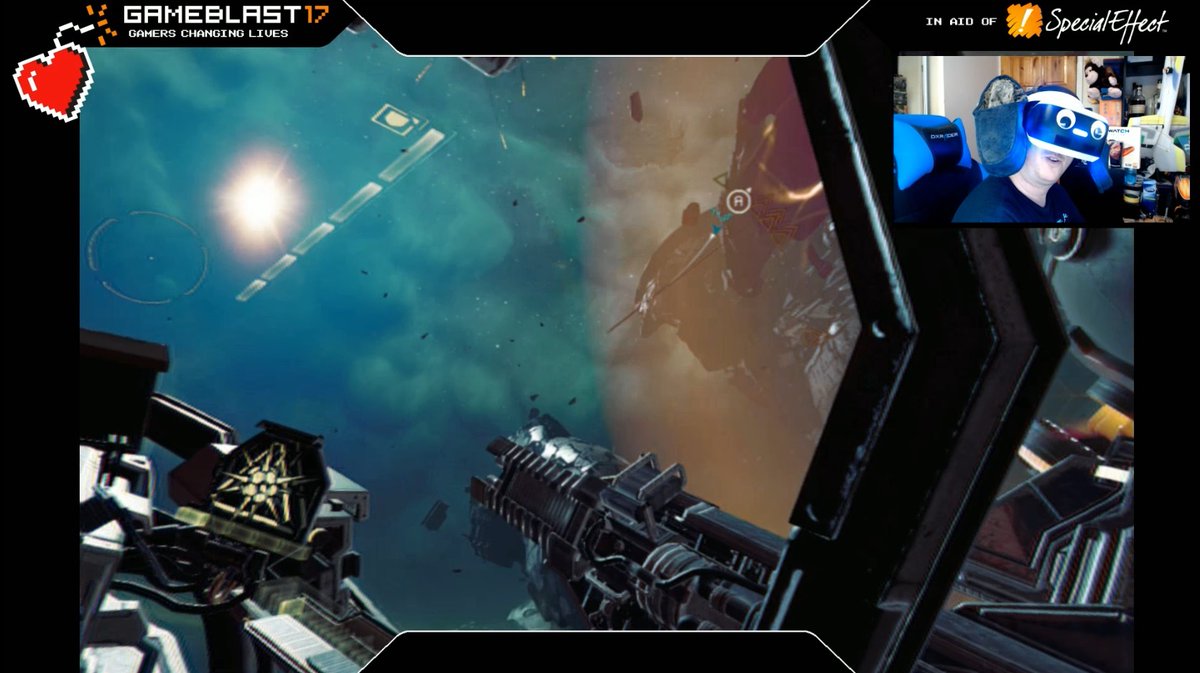 How about stuffing marshmallows in your mouth one at a time until you can no longer say the phrase 'Welcome to the Next Life'? Yep, that happened.
Clearly it worked because stretch goals were reached to the point where the hirsute Talithria had his beard glittered, then shaved off completely, then had to have his hair cut. Like Samson, he has probably now lost all his strength. Still, all in a good cause.
At the time of writing we couldn't get hold of General Stargazer, but we spoke briefly to support pilot and community contributor Anska to get a flavor of what the event was like.    "The experience was fantastic and it was amazing how much the Valkyrie community came to help, watch, stream and even donate! The amount of fun and feeling that happened that night was beyond words! As for my experience, it was first time doing anything like this. But, it was amazingly fun and I'd love to do it again. It makes me feel proud to be in such a fantastic community and game. It was for such an amazing charity and the link is still up if people want to donate."
Proceeds from GameBlast17 go to gaming charity Special Effect, an organization that helps people with disabilities enjoy gaming. Do head over to their website to see the amazing work they do.
A big thanks to our EVE: Valkyrie community. Once again you've proven yourselves a magnificent collection of individuals.
We have to go now, we have something in our eyes.
Fly safe.